Winstub le « Tire Bouchon »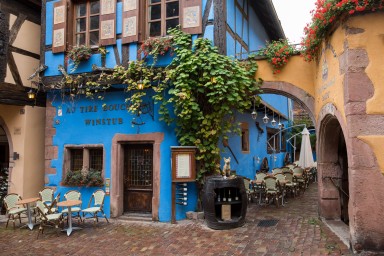 Schedule: Open everday from 12.00 to 14.00 and in the everning from 18.30 to 21.00. There is a smaller menu from 14.00 to 17.30.
bening of 70's, Zimmer Family start the Winstub "Au Tire-Bouchon" .Wines and traditional dish are the specialities of the place .
The "Tire-bouchon" get 150 places divided by 3 different hall.
Découvrez notre carte 2020
| The entrées | Prix |
| --- | --- |
| quiche lorraine | 7.50 € |
| oeuf mimosa, jambon blanc asperge | 9.50 € |
| Plate of raw vegetables | 6.50 € |
| Les Tartes flambées | Prix |
| --- | --- |
| Nature (bread dough, white cheese, onions, bacon) | 8,00 € |
| With cheese (bread dough, white cheese, onions, bacon, cheese) | 9,00 € |
| With mushrooms (bread dough, white cheese, onions, bacon, cheese, mushrooms) | 9,50 € |
| With smoked salmon (bread dough, white cheese, onions, dill, smoked salmon,cheese) | 12,00 € |
| Whit munster cheese (bread dough, white cheese, onions, bacon, cheese, munster cheese) | 9,50 € |
| The traditional dishes | Prix |
| --- | --- |
| Alsatian sauerkraut with 5 toppings | 16,50 € |
| Baeckeoffa an Alsatian Hotpot | 17,50 € |
| jarret braisé choux | 16.50 € |
| Fishes | Prix |
| --- | --- |
| bouchée à la reine aux 3 poissons | 18.50 € |
| Meat | Prix |
| --- | --- |
| bavette de boeuf sauce échalote | 18.00 € |
| The Cheeses | Prix |
| --- | --- |
| A portion of Munster cheese | 3,50 € |
| The Desserts | Prix |
| --- | --- |
| Cup of ice and sorbet : 1 scoop | 1.90 € |
| Tart "Tire-Bouchon " | 4.50 € |
| Chocolate fondant on an island of custard sauce and raspberry ice cream | 6.50 € |
Voir les menus de groupe